The research processes made on the field of Governmental and Institutional Travel and Tourism and the standardization and protocols of this new sector for the first time finally framed, has lead Diego Fuentes to get a special recognition to his expertise by being designated as UNWTO Expert.
This work will be shared among the other UNWTO members and will continue its development thanks to the contribution of other expert resources in each specific topic, such as Universities, tourism schools and other entities. By this international standard it will be promoted the especialization of all providers already operating with the different UNWTO state members (Hotels, transportation companies, airlines, restaurants, etc.)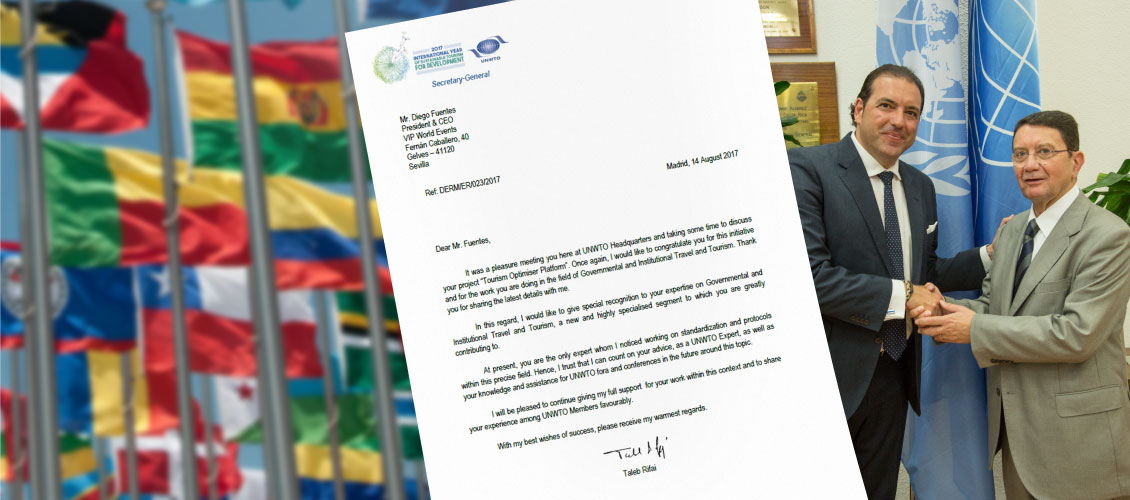 "[…] I would like to give special recognition to your expertise on Governmental and Institutional Travel and Tourism, a new and highly specialised segment to which you are greatly contributing to. At present, you are the only expert whom I noticed working on standardization and protocols within this precise field. Hence, I trust that I can count on your advice, as a UNWTO Expert, as well as your knowledge and assistance for UNWTO fora and conferences in the future around this topic.
I will be pleased to continue giving my full support for your work within this context and to share your experience among UNWTO Members favourably. With my best wishes of success, please receive my warmest regards."
Taleb Rifai
UNWTO Secretary General
Designation Letter as UNWTO expert